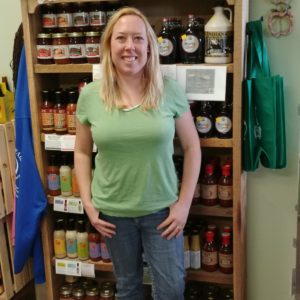 Kristy has been with us for three years. She came to work for This Old Farm after bringing her chickens to us for processing, loving the way the chickens were packaged and labelled for her family to sell at the farmers market. She is the voice of the company, the one who first picks up the phone when you call us to schedule in livestock or complete cutting instructions for your choice of meat. She walks you through your options for how you want your meat cut, whether in steaks, roasts, ground, or patties. These cutting instructions are then given to Kerry, our head butcher, so he can make the cuts according to your specification. She explains our different seasoning options for sausages and describes your choices for value-added products like smoked pork chops, summer sausage, and chorizo.
Kristy is here to greet farmers when they drop off livestock and make sure that livestock drop off sheets are accurately filled out so that she can assign a traceability number that follows the animal all through the process. This way you can be sure that you are getting your meat back. Our traceability is unique to the meat processing industry. Traceability in grocery stores is limited to what box the meat came from, instead of what animal it came from. Kristy's documentation makes sure that we accurately put the farmers' name on all of our meat products.
We are tied strongly to our farmers. In the words of Adam Oswalt, our Value Added Butcher, "in large meat processing plants farmers are a means to an end, for us they are the end." Kristy believes in the importance of consumers knowing their farmer and their processor, so they can be confident about where their food comes from. And because of Kristy's work, we continue to develop relationships with more farmers. Kristy works with our Farmer Alliance Program which gives farmers opportunities to source out their meat, Hoosiers Feeding the Hungry, the Beef Cattle Association, and 4H events that we have sponsored for a second year.