It has been exciting for us to collaborate with others to teach about healthy food and promote local meats.
Lucas Roosa, our Farm to Fork Manager, traveled to Chicago to speak to the children and teachers at McAuliffe, Goethe and Hamilton Elementary Schools about where their food comes from and what kind of work goes into producing local and fresh meats. His presentations emphasized the fact that meat comes from animals and that healthy animals are fed a healthy diet. These Farm to School Visits are a team project between Chicago Public Schools, the third largest school district in the United States, Farm Logix, who provides local food to 650+ Chicago schools, Aramark, who partners with school districts to manage their nutrition and facilities services with the goal of working with American Heart Association to improve the health of Americans 20% by 2020 by empowering people to make healthy food, nutrition and lifestyle choices.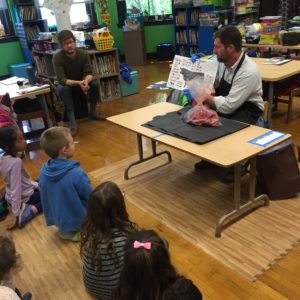 Another collaborative opportunity is with Patrick at The D&R Market in Lafayette. It is hard to find mentors in the butchery trade and we are so pleased that Kerry Mullendore, our head butcher, has a great training opportunity to learn about D&R's fresh meat counter and determine ways to set up our own which will launch us into more retail service. We are dedicated to training staff and improving our techniques in whole animal butchery and will be conducting various trainings over the next month for new and existing employees to improve their skills in the butchery trade.