This week we are so pleased to have two teachers interning with us to learn about career opportunities and skills required for work in the meat processing industry that they can pass on to their students.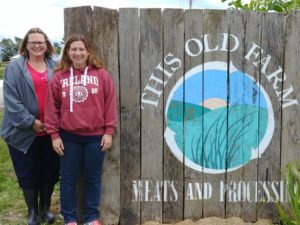 Jenny Merritt, a Culinary Arts teacher at Lebanon High School, is working with us June 26th-28th as part of an Educator Externship experience to see how our business runs, the types of work that is done and how she could apply that knowledge back to her classroom. By being an active participant in our day to day operations, she will better understand the skills students need when they transition from the classroom to a post-secondary opportunity. The Lebanon Community School Corporation Educator Externship program has the goal of giving businesses a new perspective on today's schools and building personal connections between educators and businesses to develop the future workforce by helping educators connect academic concepts to real-life applications.
Macon Beck teaches Agricultural Science and Business classes at Attica Jr/Sr High School. She joined Jenny to work with us this week as a part of the Work Based Learning (WBL) Teachers/Counselors in Industry Project, an Indiana Department of Education summer internship program that allows Indiana Career and Technical Education (CTE) teachers and school counselors an opportunity to gain valuable industry knowledge by completing an internship with a partnering industry. She will gain the opportunity to understand the principles of Work Based Learning and to learn more about our business and the latest changes in our industry.
Jenny and Macon are working with Kristy, our Farm to Market Assistant, to schedule farmers bringing in livestock, put together marketing packets for customers, and greet farmers while checking them in as they drop off livestock. They are working with Rick in Distribution to fill the freezers for retail sales, with Kerry, our Head Butcher on the harvest floor and with Adam our Value-Added Butcher in the processing room and kitchen. Adam talked to our interns about the skills and qualities we are looking for in hiring students out of high school- hard workers, who are prompt, dependable, and looking for a career in agriculture and food production. The butchery trade is being revitalized and now is a good time for young people to enter into a lifelong trade, not just a job. There is plenty of room to grow here personally, professionally and artistically, to build a fulfilling career. We are excited to be partnering with these schools and we look forward to building more partnerships and intern opportunities in the near future.
Please contact us if you are interested in developing internship opportunities for educators and students interested in agricultural careers.