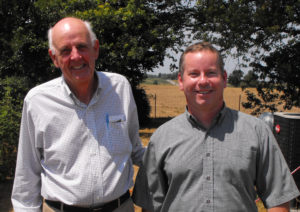 My husband Billy worked at This Old Farm when our smokehouse caught fire causing an explosion that burned down the facility. He never forgot running out of the building ducking down as the smoke filled the room from the top down. Everyone got out safely and amazingly we rebuilt and got back to business in record time! Several years later, Billy got the chance to meet Wendell Berry, the renowned author of agrarian fiction, essays, and poetry, who tirelessly speaks of the importance of honoring the local community and who laments the loss of rural livelihood and living as family farms keep disappearing. Wendell Berry always gives hope to the younger generation and he inspired Billy and I to move to Colfax, Indiana to stake a claim on 5 acres, to live on the land and grow our own food, and to teach our children how to keep a garden and raise goats, chickens and ducks to have fresh milk and eggs.
Billy, my beloved husband, suddenly died of a heart attack six months ago, and now my three children and I are carrying on with the lifestyle that Billy taught us through Wendell Berry. Billy got the chance to meet Wendell when his good friend Josh Fowler, a state meat inspector at the time, who previously worked for This Old Farm, found out that Bill Lawter, a retired Meat Poultry Inspector in the State of Indiana, was a close friend of Wendell Berry. They have been trading ram lamb's for many years and Wendell was coming over to Bill's house the next day, so Josh took Billy and another to Morton, Indiana, a small community in Putnam County, consisting of little more than a general store, livestock sale barn and 18-20 houses. Wendell and his grandson drove up from Kentucky to Bill Lawer's house in an old pickup truck, driving through small towns to avoid the highways, patiently driving through stoplight after stoplight, keeping with his love for the agrarian lifestyle.
Having read most of Wendell's stories, poems, and essays on rural America and farming, Billy was so excited! He asked off work and drove with Josh and Justin Miller, who worked at Moody Meats at the time, to meet Wendell and for an hour they stood with him in the kitchen talking around the table. Wendell and Bill asked them to lunch, but they didn't want to impose. As they were driving home shortly afterwards, they were so disappointed that they didn't go. However, Billy did leave with a signed copy of one of Wendell Berry's best works of fiction, Jabor Crow.
I will be quoting from Wendell Berry's many writings over the next several months and I will leave you with one from his book, "Bringing It To The Table: On Farming and Food" from an essay entitled "The Pleasures of Eating" (1989). Wendell says, "Many times, after I have finished a lecture on the decline of American farming and rural life, someone in the audience has asked, "What can city people do?"
"Eat responsibly," I have usually answered…"
Here are some things you can do to eat responsibly according to Wendell Berry:
1. Participate in food production to the extent that you can. Grow some food for yourself.
2. Prepare your own food. This means reviving in your own mind and life the arts of kitchen and household.
3. Learn the origins of the food you buy, and buy the food that is produced closest to your home.
4. Whenever possible, deal directly with a local farmer, gardener, or orchardist.