Tours and Classes
Farmer Appreciation Tours and Classes
We have already planned opportunities for you to visit our facilities and become acquainted with the many services that This Old Farm provides. While these farmer appreciation meetings are done at no cost, we also offer consulting on similar topics. If you can't make it, call us for a one on one consultation. We also understand, as farmers, your time is valuable. So, to perhaps whet your appetite for learning and sharing, we give away over $1000 in processing services during this season of learning!
–
Meeting 1: Keep Your Customers YOUR customers
Customer Service Meeting – We will explain why the livestock drop off sheet is important and why we need cut instructions before the animal gets here. If you've ever wondered about our processes, this session is for you!
When: Thursday, February 11, 2021 at 5pm
–
Meeting 2: Value Added Goods and Kitchen Tour
How our V.A.G. can stiffen your demand. Learn about curing and smoking of hams and bacon, jerky production, and ready-to -eat meats that can give you a leg up on other direct market farmers.
When: Saturday, March 13, 2021 at 12pm
–
Meeting 3: Trailer to Freezer
Ever wonder what happens after you drop off your livestock? We will walk you through the entire process. *No animals will be harmed during this tour
When: Saturday, April 17, 2021 at 12pm
–
Meeting 4: Grade and Yield
Our most popular producer meeting! The only meeting we have year after year. Come hear Adam and Evan wax poetic about how good your beef is… or should be.
When: Saturday, May 15, 2021 at 12 pm
–
Please RSVP to Travis@thisoldfarminc.com or call us at 765-324-2161.
Be sure to mark your calendars and plan to join us at the above FREE meetings, space is limited.
All meetings take place at This Old Farm's office and event center:
9572 W. County Road 650 S., Colfax, IN 46035
All times are Eastern Standard Time and will take place/start in the upstairs meeting space at the processing facility located at 9572 W Co. Rd. 650 S, Colfax, Indiana 46035.
All participants will need to wear a face mask/covering as required by Indiana mandate issued by Governor Holcomb. Due to space limitations, social distancing may not be possible at all times.
–
Youth and Adult Programming
We feel that the best way for us to get in touch with our food is to see first hand how it is raised and handled. An active interaction between the consumer and the grower is required to ensure a strong, loyal customer relationship. Tours are a great way for you to witness how your food is raised, handled, and processed first hand! For more information on tours, see our print-out here Tours-Education Information and here Tours Letter.
We enjoy talking to
-4H clubs
-FFA Chapters
-Farm to School classroom programming
-Service Organizations
-Food Conferences
-Or just a group of friends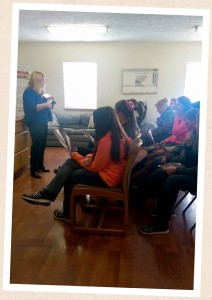 Our favorite presentation for all ages is our Offal Petting Zoo. One of our participants said "It is so ewwww it is cool."
For more in depth education, we also offer custom classes! Our classes cover a large variety of areas including, but not necessarily limited to…
Basic Butchering (for beef and/or hogs)
Chicken Processing
Livestock Anatomy through Harvest
Making Sausage
Contact us at 765-324-2161 or email Jessica at jessica@thisoldfarminc.com to get a quote on pricing and to set up a class tailored just to your needs.
Professionally Trained
Kari Underly – Muscolo Meat Academy
Our butchers have been trained by the best in the industry! (See article for photos.) We are pleased to provide support for Kari Underly and her Muscolo Meat Academy. The art of butchery is nearly a lost trade. Preservation of this skill set is oh so important for maintaining our ability to obtain Good Local Food.
Education
Sustaining a farming operation for the long term involves more than just excellent agricultural practices. Farming is a business, and financial sustainability is the largest factor in whether any business works, be it big or small. It is the single biggest struggle for most small farmers.
This is why we here at This Old Farm take education so seriously. We hope to lift up both the customers and our farmers, by bringing the customers closer to the food they eat, and thus the farmer who raised it. By doing so, we give the customer a good, healthful product, while helping the farmers maintain financial sustainability, and thus be able to make more ventures into sustainable agriculture.
As we continue to strive towards helping farmers achieve both agricultural and financial sustainability, we hope you understand that YOU are the catalyst behind this movement. Your consumer dollar provides the power on which this movement runs. We appreciate your ongoing support as we move forward in helping our customers connect with the food they eat, and helping our farmers with the customers they need.