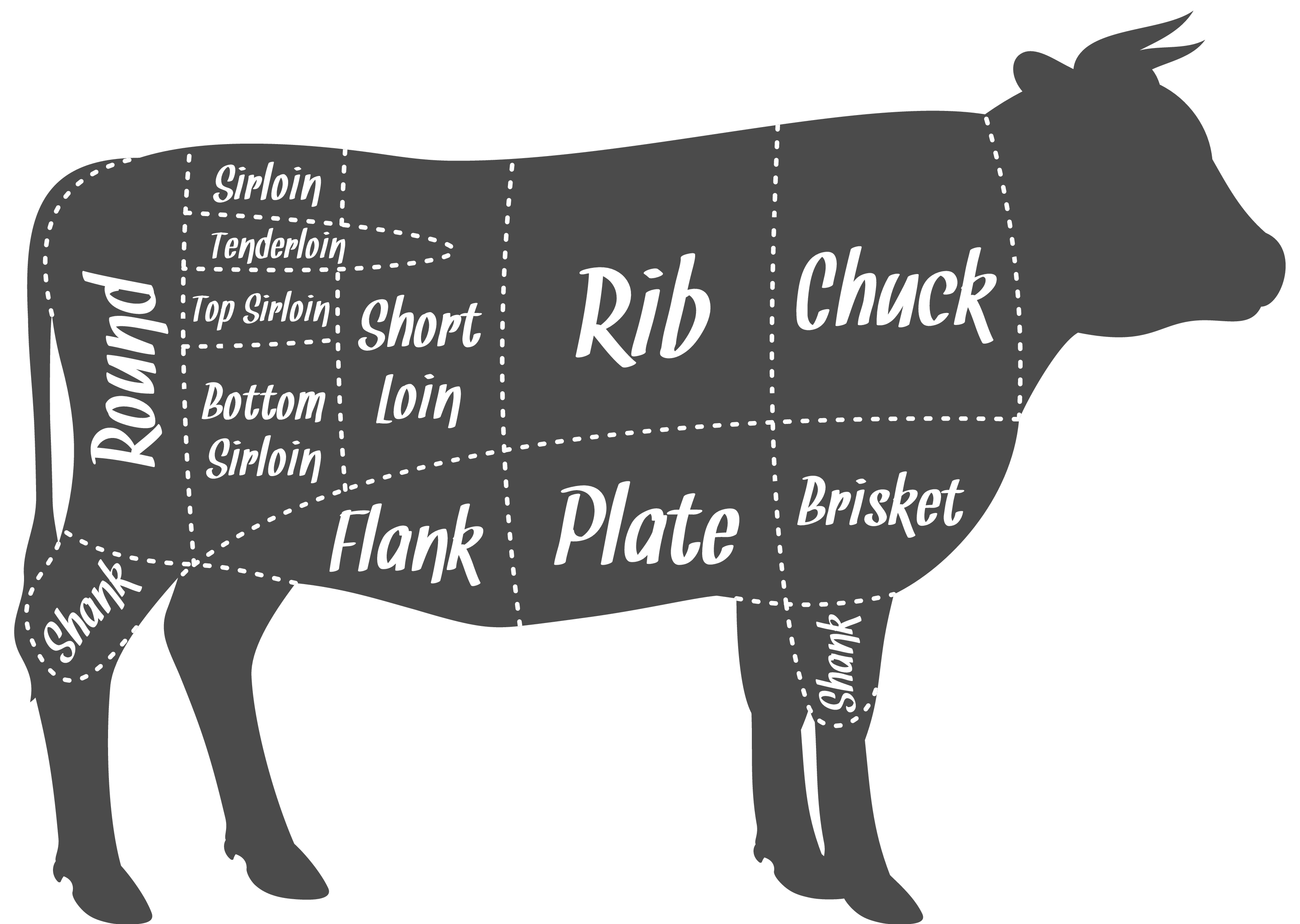 Beef Cut Forms
Beef Cutting Instruction Comparisons
New cut sheet options have been added to best meet your needs. We have streamlined submissions for simple orders, but still offer all of the same great options that we used to. Read the comparisons below for more information to help you choose the Cutting Instruction that fits you best. For More information on these changes, view our "Why are the Cut Instructions Different" FAQ.
Butcher Basic
This is the most cost effective option we offer at This Old Farm Inc. while maintaining our premium processes such as 100% traceability and vacuum packaging of your product.
Some products included in this package are premium steaks such as Ribeyes, Filets, and NY Strips; and a variety of roasts such as Chuck, Brisket, and Rump. With this being the most cost effective option, your invoice will only consist of our standard flat fees and basic processing and slaughter charges.
Choose this option if you are getting a Quarter Beef OR:
Don't want to spend time filling out instructions and making decisions; Our butchers already have a set of recommended selections picked for you!
Want the lowest cost option. There are ZERO EXTRA FEES.
Want to minimize the wait time for your order. Our butchers know the basics by heart and can process these orders in their sleep!
Estimated Cost for a Whole: $800
Estimated Cost for a Half: $450
Estimated Cost for a Quarter: $260
(Based on 1200 lb. live weight)
Basic w/ Addons
This option is the step up from our Butcher Basic! Choose this option for access to a selection of addons to modify the Butcher Basic.
This cut form gets you all of the classics from the Butcher Basic and allows addons to be specified too. You will be able to request premium value-added items such as patties, stew meat, and tenderized products, for additional fees. This option allows more customization access for customers processing beef with us in smaller quantities (half beef, whole beef).
Choose this option if you:
Want minimal customization options for your order.
Have a slightly bigger budget and want to splurge on a few extra value-added items, like patties or tenderized cuts.
Want a specific item not offered in our Butcher Basic package (think bone-in steaks).
Full Custom
For those that want access to the entire TOFI arsenal! For an additional flat fee and fees per item selected, you will have access to all services available here at This Old Farm Inc.
This includes, but is not limited to, ready-to-eat products such as hotdogs and beef jerky, specialty cuts such as tomahawk steaks and flanken-style ribs, and premium quality services such as specialty labeling and in-house grading of your beef.
Choose this option if you:
Are a farmer or retailer that needs precise control over how your order is processed, from nose to tail.
Are bringing us multiple animals and need multiple processing techniques that deviate from our normal processes.
Need to utilize our more time intensive services such as Chuck Steaks and ready-to-eat items.
Please note: Full Custom orders are subject to certain restrictions based on the size of your order. This selection is NOT RECOMMENDED for orders with fewer than Three Whole Animals.
Orders with less than (3) animals PER ORDER will incur a $50 charge on their admin fee for increased handling of your order and half beef orders will incur a $75 charge. Exceptions apply for our biggest farmers. Are you a regular? Call today for your new bill discount options!
Terms/Conditions
Basic Fees
There is a $48.40 Admin fee per order. The more animals you put on a cut order the less expensive processing will be overall.
Basic Slaughter Fees: $.19/lb on hanging carcass weight ($121 minimum per beef) includes our standard dry aging feature of a minimum of 6 days. Additional charge of $.08/lb on the hanging weight for heavy beef over 1600lbs live weight.
Processing: $.77/lb hanging carcass weight ($385 minimum per beef) includes standard vacuum packing! Additional charge of $.08/lb on the hanging weight for heavy beef over 1600lbs live weight.
Federal Inspection $19.97 (this fee helps maintain our facilities to USDA standards)
Offals are $19.97 per animal/set. Heart, Tongue, Oxtail, and Kidney can not be divided for half or quarter orders and will be substituted from another animal (if multiple orders request offals). Half orders with Heart, Tongue, Oxtail, or Kidney will be charged a full animal charge.
Freezer rental of $5.70/day (orders less than 14 boxes ONLY) will start 7 days after your notification of a completed order. Orders that have 14 boxes or more are stored in our warehouse freezer on a pallet. Freezer rental for palletized orders have a monthly fee of $73 per pallet that starts 7 days after notification of your completed order. Please note that you will be notified when your first round of beef product is complete and a second notification when your value added options (special requests, dry age, patties, etc) are complete.
Submissions after slaughter appointment and/or changes to the order after submission are subject to a $12.10 change order fee. Additional fees may apply in the event of unforeseen circumstances. We strive to work efficiently to keep the cost of your order as low as possible.
Disclaimer
A 10% variance may occur from patties ordered versus patties made.
Porterhouses will be labeled as T-bone unless requested (available on Full Custom only). Additional fees will apply to have porterhouses labeled separately.
Our sausages are as natural as possible ($.74/lb – our signature seasoning Farmer's Mild Breakfast, $.94/lb – mild options, $1.33/lb – hot and specialty options). They leave out MSG and all preservatives possible. Natural sugars are used with the exception of the Sugar Free Garden Sage. The Hint of Maple option includes artificial maple flavor. A 10% variance may occur from pounds ordered versus pounds made.
FOR FULL CUSTOM ONLY: Boxed patties have a minimum of two (2) boxes and the vacuum seal patties have a minimum of 25 pounds.
FOR FULL CUSTOM ONLY: Seasoned patties have a minimum of 25lbs. Seasoned breakfast patties have a minimum of 50lbs. All cased products (brats and breakfast links) have a minimum of 50lbs.