Come help us celebrate the opening of our new Lafayette store on September 30th from 3-5pm. Radio talent Mack from K-105's morning show will be here to help liven up the party. My brother, Jared, reminded me to stop and enjoy the work we do from time to time so here we go Brother Jared! We have invited Jordan Mirrick, owner of RTB Chefs back to Souvid some of our local beef raised by Newby Farms making the perfect sandwich to enjoy on a fall day! We will have plenty of specials and even some samples out to enjoy!
Adam has been at work in the new shop filling the case with local meats. Here in this picture he is cutting pork from Phelps Family Farm. Joe and Vonda Phelps were a mentor of mine back when I started at the Trader's Point Creamery Farmer's Market many years ago. They have been raising hogs outside for generations. They certainly inspired me to keep farming even when it was difficult.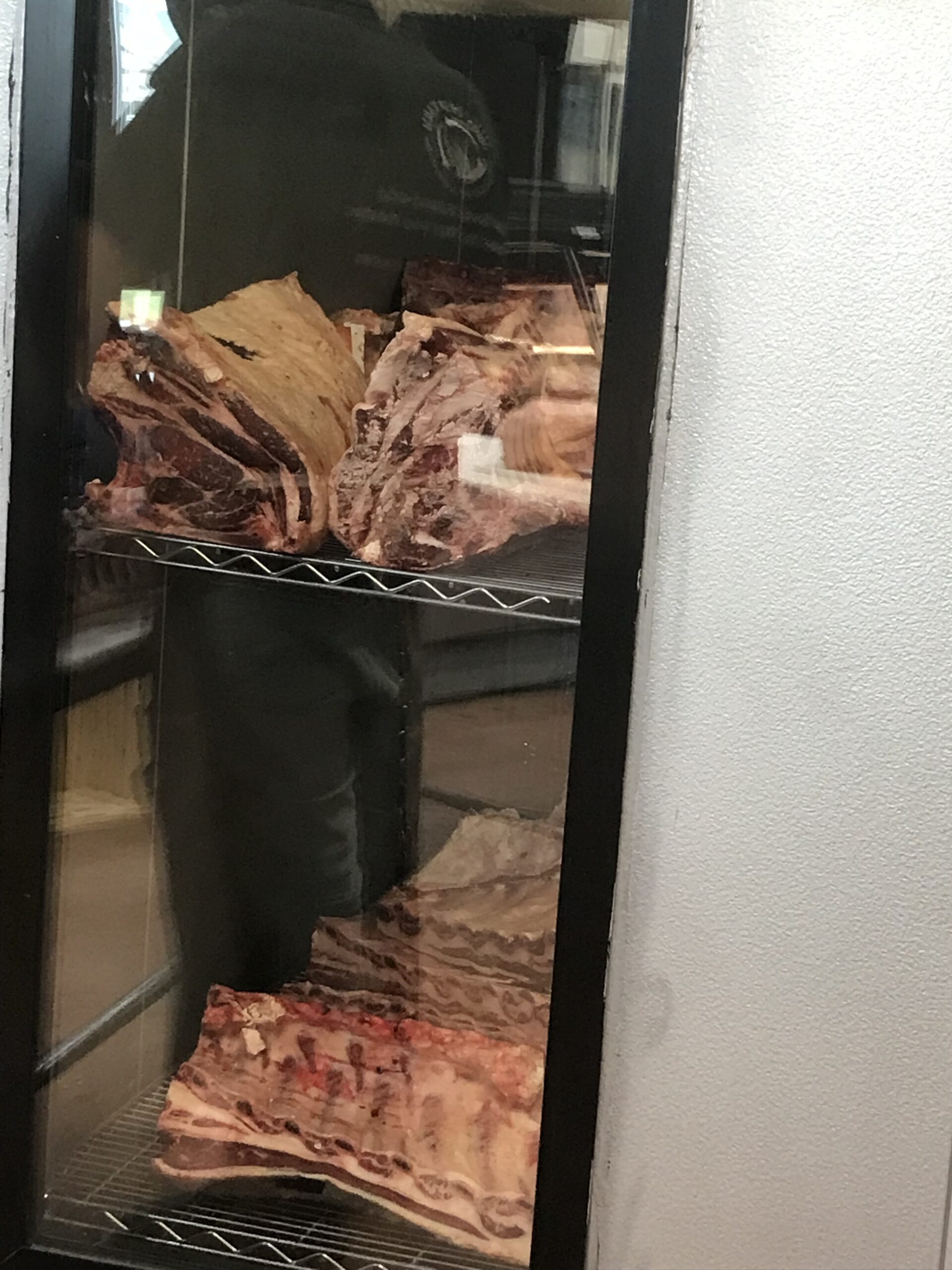 Here in our dry age window we have middles from a beef raised by Ed Newby from Thorntown. This beef has dry aged on the rail for 2 weeks. We will see how long we can keep it before it is needed in the case as rib eyes and NY strips. Dry aging improves flavor, tenderness, and food safety! Only 5% of beef in America is dry aged today so if you eat from us, you are eating in the top 5%.
I am sure you can see I am excited to show the hard work of the last several months! Below is the press release going out to announce our event. I hope you can come out and celebrate with us!
Press release below:
Lafayette, Indiana 9/23/21- This Old Butcher Shoppe is excited to announce the Grand Opening and Ribbon Cutting of its new location at 3623 Braddock Dr, Lafayette Indiana 47909.
This Old Butcher Shoppe is Lafayette's newest full-service, locally sourced, butcher shoppe to serve Greater Lafayette and Tippecanoe County. This Old Butcher Shoppe is a division of This Old Farm Meats and Processing in Colfax, Indiana which processes locally sourced commercial, retail and personal use animals. Our location on the southside of Lafayette will provide product selection from 100% USDA inspected animals. This project was sponsored by the USDA Ag Marketing Service and the Local Food Promotion Program.
The Ribbon Cutting and Grand Opening will take place Thursday, September 30th from 3pm to 5pm at our location of 3623 Braddock Dr, Lafayette Indiana 47909 which is off of Veterans memorial Parkway. If members of the press have any questions or would require more information, please feel free to reach out to Jessica Roosa -Owner (This Old Farm Meats and Processing and This Old Butcher Shoppe) at 765-767-4886 or email at Jessica@thisoldfarminc.com.