Check out our Easter Specials as you plan your big dinner this Sunday!
30% off 100% Grass-fed lamb
20% off Pastured Pork Uncured All Natural Ham
20% off Local Tenderloin Fillet Roast
20% Pastured Raised Turkey
All April long Special:
Pork Chops 20% off (bone in, boneless, tenderized, roast)
Dozen eggs $3.00 until supplies last
Here's a recipe that would make the perfect Easter dinner: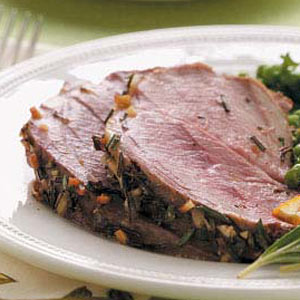 Roast Leg of Lamb Recipe with Rosemary by tasteofhome.com
TOTAL TIME: Prep: 10 min. Bake: 2 hours + standing
MAKES: 8 servings
Ingredients
• 1/3 cup olive oil
• 1/4 cup minced fresh rosemary
• 1/4 cup finely chopped onion
• 4 garlic cloves, minced
• 1/2 teaspoon salt
• 1/4 teaspoon pepper
• 1 bone-in leg of lamb (5 to 6 pounds), trimmed
Directions
1. Preheat oven to 325°. Combine the oil, rosemary, onion, garlic, salt and pepper; rub over lamb. Place fat side up on a rack in a shallow roasting pan.
2. Bake, uncovered, 2 to 2-1/2 hours or until meat reaches desired doneness (for medium-rare, a thermometer should read 145°; medium, 160°; well-done, 170°), basting occasionally with pan juices. Let stand 15 minutes before slicing. Yield: 8 servings.