Farm to School is an effort to get Locally grown farm products into schools helping children better relate to where their food comes from. This new project takes it one step further by having meat boxes available for students to take home to their families! Come celebrate this new project with us!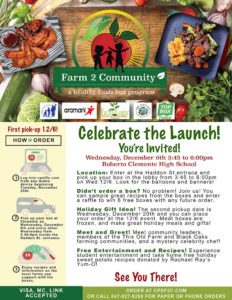 You are invited to share the launch of CPS Farm To Community:
A local and healthy food box program launching at Roberto Clemente High School on
Wednesday, December 6th from 3:45 to 6:00pm
featuring boxes of economical locally-sourced, naturally-raised meats from This Old Farm in Colfax, IN, as well as local produce to order online and bring home. At the event you'll enjoy:
Samples of the slow cooker fajita box with meat from This Old Farm
Entertainment from the Roberto Clemente band
A Meet and Greet with community and CPS leaders
Meeting Jessica Smith, owner of This Old Farm, the farm providing meats in the boxes, and members of the Black Oaks Center for Sustainable Living
Meeting local entrepreneur Chef Cliff Rome from Peaches Cafe and Romes Joy Catering
The opportunity to win 6 free boxes in our raffle
Free holiday recipes to take home from Rachael Ray's Yum-O
Orders close at end of day Monday, December 4th at cpsfarmtocommunity.com
so order yours today! Boxes make great holiday gifts at every price point!
Visit cpsfarmtocommunity.com to place your order. Visa, Mastercard and LINK accepted.
Location: Roberto Clemente Community Academy
1147 North Western Avenue (Haddon St. Entrance)
Chicago, IL 60622
3:45-6:00 pm
Question? Contact Suzy McNamara at smcnamara@farmlogix.net
CPS Farm to Community Box Program was made possible by the Food to Market
Challenge, a competition sponsored by Kinship Foundation and The Chicago
Community Trust as part of their local food initiative, Food:Land:Opportunity—
Localizing the Chicago Woodshed (www.foodlandopportunity.org). As part of the
competition, Top Box Foods, FarmLogix LLC and This Old Farm
formed to bring local, healthy food to under-resourced Chicago communities.