Farmer – John Denny
Denny's Grass-fed Beef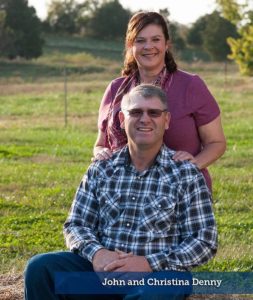 Denny's Grass-fed Beef has been raising 100% Grass-Fed beef at their farm in Pekin, IN (about 30 miles northwest of Louisville, KY) for over 10 years now. They've had their product on our shelves since February 2018. John Denny grew up on the farm, which has been under the care of his family for five generations now! As more and more children of farmers choose to pursue careers outside of the family farm, it's incredibly exciting to be welcoming a farmer to our alliance who has a heritage in farming.
As a child, John actively helped in his family's dairy cattle operation. After an attempt to grow conventional corn and soybeans in the 1980's, and selling off the dairy cows in the 90's the Denny family began raising beef cattle. In 2002 John was diagnosed with Leukemia, which was among the motivations he had to consider raising Grass-fed beef. Luckily after several rounds of chemo therapy and a reconsideration of his and his livestock's diet, he is doing well. As a Pastor at South Liberty Church in Palmyra Indiana, he sees Grass-fed practices as the best way to carry out the Biblical instruction of land stewardship on his farm. In 2006 he began using rotational grazing practices, and is very proud of the positive impact this has had on his land, and the quality of the meat he produces.
In addition to rotational grazing, John Denny also harvests his own hay and haylage which he uses to maintain a 100% Grass diet throughout the winter. Haylege is very similar to hay, but is baled at a higher moisture content than hay. By baling and tightly enclosing grass at a higher moisture content, a fermentation process is encouraged which can increase the protein content. This higher protein content aids in producing a well-marbled meat that is difficult to obtain with 100% Grass-fed products.