Farmer – Jonathan Watson
Living Water Ranch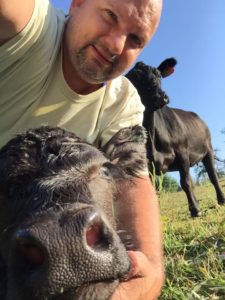 Our primary mission at Living Water Ranch is to steward our resources (our cows, our land, our streams, etc.) in a manner that provides a sustainably healthy alternative for generations to come as we seek to grow healthy Grass-Fed Beef making it available to not only our local community, but abroad as well.
The establishment of the farm, before it became what it is now, is the realization of my father's childhood dreams of living the pasture rural lifestyle. Coming home from bible school I came on board helping the farm become more than just a hobby farm but a productive operation that functioned as a business. Though our farm is not some sprawling ranch you might picture in the western U.S. having the term in our name is a nod to my childhood days living in Texas. We have two streams that converge on our property, several active springs that pop up here or there, numerous ponds, as well as 5 water wells. Having a name that sheds light on both our geographic water features as well as our personal faith was a no-brainer (John 7:38). Those who believe in Jesus, as the Bible says, "springs of living water will flow from within them."
How we began our farming days was touched on above concerning my parents. However, the choice for me to come on board was a long process. After moving away from Kentucky to attend Bible school I underwent a painful divorce and despite my best efforts I could not move forward in that regard. My father's health was waning and as an only child I felt the responsibility to help where possible. Moving back to Kentucky I began helping around the farm in little bits with my roles ever increasing. Getting involved again in the community certainly helped but all in all it was the peaceful lifestyle, the hard work, the continual challenge faced on a regular basis, and the interaction with God's cattle … providing for them an amazing life. Soon we began seeing how we can better the animal's lives. Soon we learned how to grade them and then improve their body condition. A sleek coat, fleshy curves (not bony), and an animal (or a herd of them) that comes running up to me when I drive out to their pasture … those are the marks of a happy healthy cow (in my opinion).